These pages are dedicated to group photos. Where I have the information I have put in a caption. Where none exists, or where I get it wrong, I would appreciate some help from you. Email me at eddechant@earthlink.net with the corrections. Scan and send any photos you may have a well. We really want to make this section sing. Ed.
Gene Homan's last flight. Frank Cambria, Gene, Jim Clinton, Bill Tyndall, Pete Harvey, Axel Paulsen and Lippy Lippincott.

s

Some people have all the luck. After flying with Mary Berlineri and Michelle Seybert, Roger says "I have not shopped so much in years."
Carl Carlsen's last Flight as a Captain on August 22, 1991--On the jump seat is his son Neil, a NWA First Officer.

Carl's last flight was his first flight with a woman First Officer.

Carl continued for a while as a Second Officer.
| | | |
| --- | --- | --- |
| Can anyone identify the pilots? | | |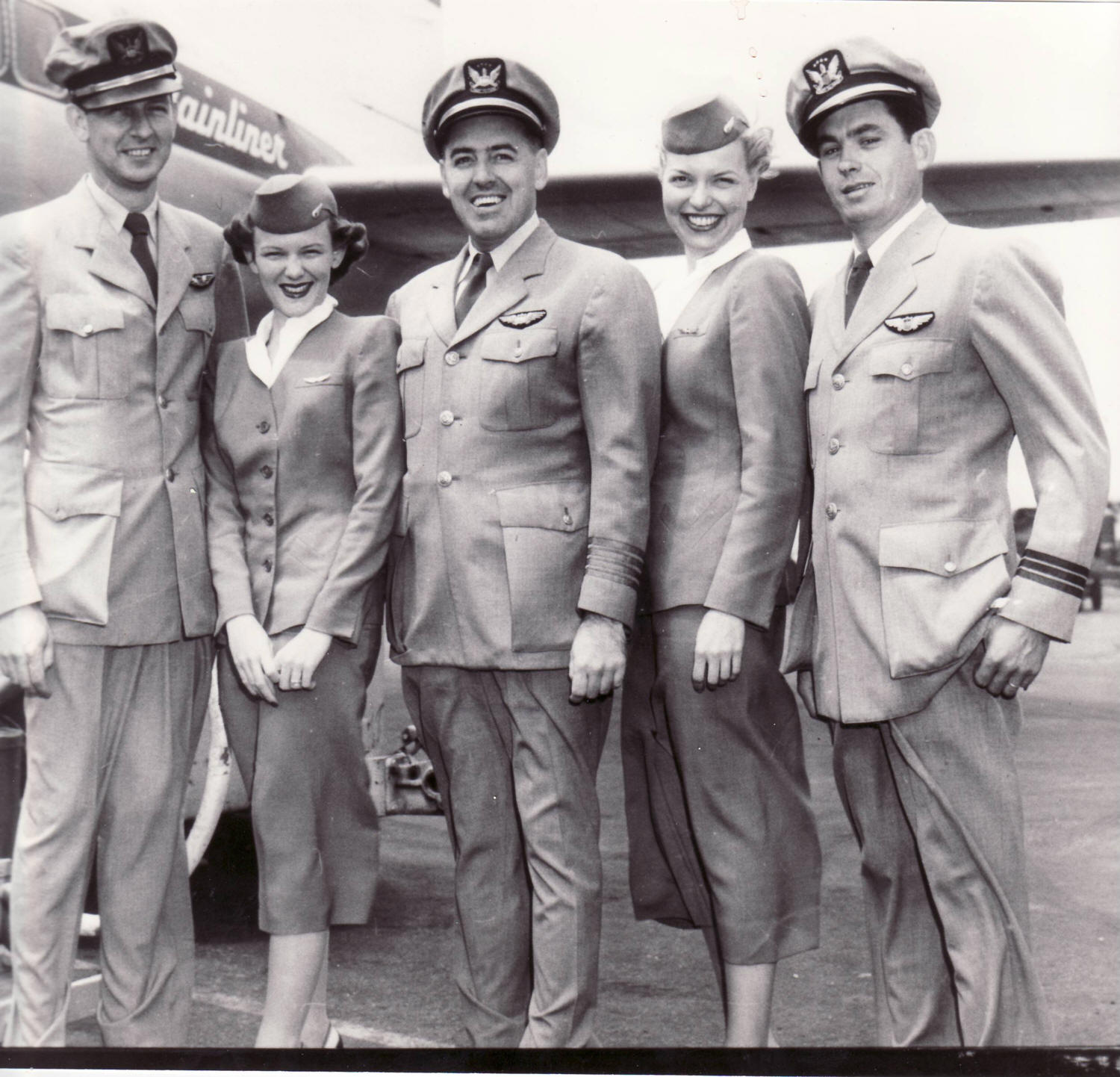 2
I need help with names here. I flew with the Captain on 8's in the late 60's. His name is Frank Farrell. The man on the right is Odie Odom Do not know the other pilot or the Flight attendents. Need help here. email eddechant@earthlink.net
| | |
| --- | --- |
| | Ever wonder why we got out of the cargo business. This is Capt Jack Hill's cargo liner crew in 1981. Doug Horne and Bob Lawson. |
| | |
| --- | --- |
| | Hey look here guys! Bob and Jim just discovered these. They are called weather charts. What will they think of next, huh? |
Above--Gene Polhemus and Joe Taylor leaving Dahran, Saudi Arabia, March 1991, Operation Desert Storm

Right---Loading at Riydh, Saudi Arabia. ---United has always been there for the USA.
| | |
| --- | --- |
| | Bob Carey and Danny McGuiness |
I have lots more to put on this page so come on back. If you have any photos in your personal album please email or snail mail them to eddechant@earthlink.net.